Government should take necessary steps to implement uniform fee structure in all unaided colleges and set up of fee regulatory body in the State, demanded the Students' Islamic Organisation of India (SIO).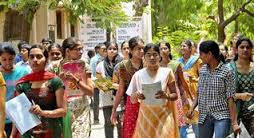 Addressing media persons here, SIO zonal president Thouseef Ahmed M Y said that unaided colleges were "looting" people in the name of providing additional facilities such as free Wi-Fi, gym, etc.
"While the rich can afford education at private colleges, the poor cannot," he said. Moreover, the Karnataka Professional Educational Institutions Act, 2006, is neither in the interest of students nor the managements of private unaided colleges.
The implementation of the Act in the present form will lead to social discrimination. There is neither an upper limit on the fees in unaided professional colleges nor any mention of a fee regulatory body under the Act, he said.
The organisation has prepared the Karnataka Professional Colleges Act, 2014, as a model Act for regulating admission in professional courses in the State, he said.
The model Act stresses regulation of admission and seat matrix in unaided professional colleges, setting up of Admission Supervisory Committee among others.
Urging the government to analyse the model Act and incorporate the suggestions, he said the organisation would submit the model Act along with its components and recommendations soon.